Best Toys For 3 Year Olds | Safe and Educational
If you have a 3 year old and you're looking for the best toys that facilitate education and learning and are also safe, then you've come to the right place! This lengthy and in-depth article will explore the best toys you can get for your young one.
Bare with us, we're going to go through all the best toys we've come across.
Vintage Play Kitchen Toy for Kids – White & Other Colors

The first Toy Kitchen we're recommending for you is
Kidkraft's Vintage Play Kitchen Toy.
It's one of the best gifts for 3-year-old boys, as well as one of the most practical gifts for 3-year-olds.
Among the main reasons why we label this particular model as one of the finest in our stock is because it's very big, it features numerous compartments that can be opened and close, and it comes in several different color variants so that you can choose whichever you like to best fit your child's room.
There's a make-believe microwave, a sink, and even a phone that your little one can use to call you up if he (or she) needs some help preparing the tastiest dishes.
Educational Toy Trucks For 3 Year Olds
Block Science Foundation Set A
Block Science, as a pioneering extension of the unit blocks system, adds a rich introduction to physics and essential cognitive development to traditional classroom block play. The Foundation Sets are designed to exercise early engineering concepts, collaboration, and the study of matter, motion, and mathematics. Plastic building and roadway clips stabilize builds, drawbridges, and loops to enable taller, sturdier, and more mobile tracks and build. Simplified, wooden cars with soft plastic wheels easily glide across solid wood tracks while carrying algebraic people designed for mathematical and dramatic play activities. Each Foundation Set includes Concept Cards for building examples and language associations. Ages 3+
Features

Enhance and expand on traditional block play
Smooth sanded beech wood roadways connect with plastic roadway clips
Over-molded plastic building clips create stable builds and fit standard unit blocks
Algebraic people have symbols for math activities or differentiation during dramatic play
Develop fine motor skills, early engineering concepts, teamwork, collaboration, spatial thinking, problem-solving, and STEM concepts
Requires standard unit blocks for the proper building experience
Ideal for one or two builders.
Block Science – Big Dump Truck
 Building upon the multi-faceted early childhood development benefits of unit block play, each sturdy wooden truck in the Block Science Big Truck series is designed to overlay a lesson on how a simple machine works. This large wooden dump truck uses levers to move the flatbed for loading and unloading Unit Blocks. The Unit Blocks and these accompanying Block Science Big Trucks teach simple machine and STEM concepts while encouraging construction, deconstruction, teamwork, social interaction and self-expression. 
  PowerClix® Solids 94 Piece Set
PowerClix® Solids have colorful, solid translucent plastics and geometric shapes that allow for open-ended, creativity-inspiring constructions. In keeping with STEM toy attributes, PowerClix® magnetic building toys encourage children to think like engineers while having fun. Created for the younger boys and girls, both 2D and 3D forms may be built by distilling the structures down to simple solid geometric shapes, furthering their understanding of how mass and volume are used to model an object. Solids are designed to integrate flawlessly with all PowerClix® system sets. Ages 3+
Features
An open-ended magnetic construction toy with an easy click 'n connect system
Available in a variety of piece counts, each including a Creativity Guide to fuel inspiration
Six unique shapes create unlimited building possibilities
Magnets never repel, so creating 2D or 3D models is easy
Designed to integrate with all other PowerClix® System sets
Material: Translucent ABS plastic with neodymium magnets
Educational Focus: Exploring solid geometry, understanding mass and volume with STEM applications
Suggested Age: 3+
Fire Truck Toddler Bed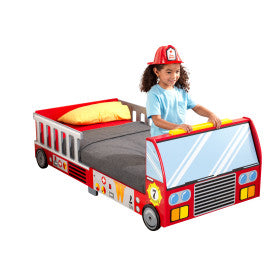 Little boys who like playing with fire trucks will most certainly love fire truck-themed toddler beds. We say – why not have both? For little daredevils that fit the bill, we offer the best possible combination. The Fire truck toddler bed is not only textured but also shaped like a real fire-fighting truck, with little stubs on each side that will prevent him from falling off while he sleeps.


The bed's dimensions measure 59 inches x 29.5 inches x 20.5 inches, meaning that it's quite big. To top it all, it's also made of superbly durable MDF materials – it was purposefully built to withstand years, if not decades of abuse.
Transportation Toy Box

In essence, the Transportation toy box is a toy box that features truck-like graphics, so it fits into this category quite well. This toy chest box is rather big, but its main benefit is that it's also very minimalistic in nature. It's very easy to use, and it packs fun graphics on it, which will be more than enough to steal your little one's attention for hours at a time.

There are two holes (one on each side) that allow for easy transport, but even so, the Transportation II toy box is not exceedingly heavy. On the flip side, it's made of premium quality wood materials that ensure its durability. The interior compartment is fairly huge, providing enough space for clothes, bedding, shoes, and even toys.
Deluxe Kids Fire Rescue Toy Set
The attention span of a 3-year-old boy is a wonderful thing. At one moment they're jumping on and around the house, the next instant they're hungry, they want to go out and play with their friends, go watch a movie, and so on. If you want to keep your little daredevil at bay, we think we have a solution for you.

We offer you the Deluxe Kids Fire Rescue Toy Set by Kidkraft. Essentially, this is a toy-like fire station that is pretty much a dollhouse for boys. It's a fire station department with all the essential toy equipment – there are a couple of firefighter trucks, a trusty firefighter dog, and even a firefighter figurine. All of them will get to play a vital role in your little one's brand-new playground.
Hollow Blocks 16 Pc. Set
Oversized hollow blocks for giant creations! This 16-piece set is constructed of birch plywood and solids. Edges are rounded and surfaces are sanded smooth for safety and hours of creative play. Blocks are sealed and finished inside and out. For indoor use only. Ages 3+ .
Toy Boxes
Dive into a world of imagination and education with our exquisite collection of toy boxes. Among them, the Alphabet Toy Box stands as a true marvel, embodying grandeur, elegance, and the finest craftsmanship. Crafted with care in the United States by skilled woodworkers, this monumental piece redefines playtime storage while inspiring young minds.
This is probably one of the most effective educational toys for 3 year olds as it sports clearly visible, elegant alphabet letters on the front side. Aside from that, it looks absolutely amazing and comes outfitted with a huge storage compartment.
Little Helper Backyard BBQ Grill | Red, Black
KIDS PLAY GRILLING SET:
Kids grill is great for both boys and girls and completes any home, classroom, preschool, or daycare playroom
26 ACCESSORIES INCLUDED: Includes a cutting board, knife, tongs, two skewers, salt, pepper, ketchup, mustard, and 17 pretend food items to encourage role play and light up your little chef's imagination
INTERACTIVE FEATURES: Open/close top lid, four rotating and clicking knobs, a rotating kebab spinner, and two rotating wheels enhance your little one's playtime
MADE WITH EASY-TO-CLEAN MDF: Durable MDF construction is kid-safe and easy to wipe clean for everyday messes
KID-SIZED DIMENSIONS: Measures 21.5" x 13" x 27.75" when assembled to fit in any play area and is recommended for children ages 3 years and up
Overview
Give your little one their own cooking space with the Teamson Kids Little Helper Backyard BBQ Grill Playset.
The easy-to-follow instructions allow for quick adult assembly so playtime can start right away.
Teamson is a global lifestyle home design brand bringing joy into every home through beautiful, quality pieces made for stylishly comfortable everyday living.
Teamson Kids brands give flight to fun, discovery, and learning through beautifully crafted, safe, and trend-right furniture pieces and toys for kids with a spirit of curiosity and adventure.
Grand Dollhouse with Garden and Accessories for 12" Dolls | Purple


Give your child's dolls an elegant place to stay with Olivia's Little World Lavender Grand Dollhouse for 12" Dolls with Front Garden.

This contemporary dollhouse features a white exterior and a lavender roof for a bright pop of color in your little one's bedroom or play area. The lifelike decorations, patterns, and textures in the dollhouse provide beautiful details that add to a more realistic experience. Complete with a kitchen, living area, bedroom, bathroom, front garden, and a rooftop terrace, this toy house has everything your little one needs to give their dolls a cozy house. With 16 included pieces of furniture and accessories for its various spaces, this toy house is completely customizable for your child to make it their own.

Constructed from quality MDF, this sturdy play house is designed for long-lasting use and is easy to wipe clean for everyday messes. For quick and easy assembly, step-by-step instructions are included with the toy house. The Olivia's Little World Lavender Grand Dollhouse for 12" Dolls with Front Garden is compatible with 12" dolls and recommended for children ages 3 years and up.

For over 20 years, Olivia's Little World has been manufacturing products of the highest quality along with the best craftsmanship. Teamson takes pride in our expertly crafted high-quality children's wooden furniture designs and strives to exceed all safety standards.

Teamson creates beautiful pieces that encourage your child's imagination while seamlessly fitting into your home.


Art Table with Drying Rack & Storage
The KidKraft Art Table with Drying Rack & Storage will be the creative center of any playroom. Made of wood with a natural-colored finish, it houses everything a budding artist will need to unleash their creativity. A roll of art paper mounts under the table, feeds through a slot and fastens to the tabletop for a secure work surface. Or, use the flat area for testing out new slime recipes. It's just their size and keeps the mess off your kitchen table. Kids can stand at the table to do artwork or they can pull up a chair or stool for more intensive projects. Sealable spill-proof cups keep paint fresh and where it belongs, and built-in storage bins on both sides holds supplies so little artists can keep their workspace clean. Now, that's what we call a masterpiece.
Crafted of premium, recyclable materials for long-lasting play
The expansive surface area with clamp for holding down a paper for ease of drawing, painting, and coloring
Two sealable, spill-proof paint cups fit snugly in the slot to help eliminate drips
Four open storage bins on the bottom for stashing supplies
Includes art paper roll that stores discretely underneath the side for ease of use
Two storage compartments for keeping pencils, crayons, erasers, and more right at hand
Dowel rods on the side for hanging finished artwork to dry
Made of wood with a natural-colored finish
Recommended for ages 3+
Polka Dots Toy Clothing Rack with Storage | Pink
COLORFUL CLOTHING RACK: Features a playful pink design with white polka dots for a fun and functional addition to your child's bedroom or play area.
AMPLE STORAGE: Features a hanging area, seven storage hooks for accessories and outwear, and two lower shelves for shoes and toys to keep your little one organized.
EASY-TO-CLEAN DESIGN: Durable and eco-friendly MDF construction is kid-safe and easy to wipe clean with a damp cloth for everyday messes.
PLAYFUL ROOM DECORATION: Purchase alone or with other items from the Polka Dots collection for a bright and joyful playroom.
KID-SIZED DIMENSIONS: Measures 31.38" x 10.38" x 40.25" to fit in any bedroom, and is recommended for children ages 3 years and up.